PRACTISE SPORT WITH ÚNICLA
A unique ambassador,100% Galician
Passion, dedication, sacrifice, effort and commitment. These are all values that Ana Peleteiro (Ribeira, A Coruña, 2 December 1995) embodies both on and off the track. A way of being and doing that is also environmentally friendly.
All this has taken her to the top, from an early age. Ana is national record holder in triple jump in all categories above sub-18; she was named best Spanish athlete in 2011, 2012 and 2013; she became junior world champion in 2012; she received the Princess of Asturias Award in 2013; and she is currently European champion in triple jump in indoor track.
A life defined by challenges and constant progress, by daily improvement, by being an athlete who is unique, like our milk.
CHECK OUT ALL ÚNICLA PRODUCTS HERE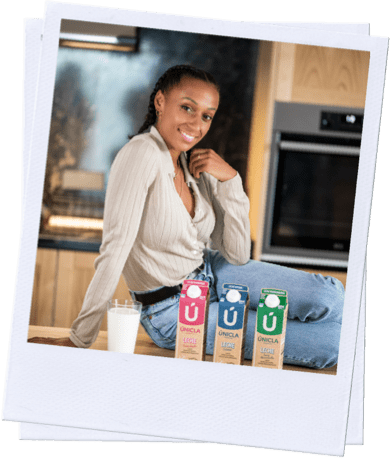 "Únicla is an ideal complement to a healthy diet (like mine), providing you with good fats, omega 3, calcium, vitamin D and antioxidants such as selenium."
Ana Peleteiro, elite athlete and ambassador of Únicla.
NUTRITIONAL INNOVATION FOR A UNIQUE SUPERFOOD
Do you know why Únicla is nutritionally unique?
Thanks to the care given to the cows and their forage-based diet, fortified with a concentrate rich in linseed and selenised yeast, Únicla has nutritional characteristics that are naturally different. Without adding anything to the milk, just one glass of Únicla milk provides more omega 3 and CLA than conventional milk, and is a natural source of selenium.
For more information on the nutritional values of Únicla Milk, download our dossier, because taking care of yourself is what matters. And Ana Peleteiro knows that.
NUTRITIONAL INNOVATION FOR A UNIQUE SUPERFOOD
Before, during and after sport, dairy products are essential components of a healthy diet to avoid physical problems and improve performance.
The electrolytes present in milk are mineral particles essential to maintain good hydration levels in the body, and for this reason drinking milk after exercise helps rehydration.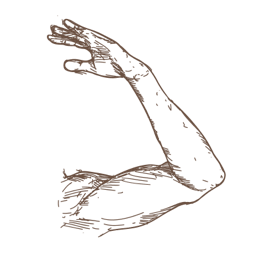 Whey and casein proteins as part of a balanced diet accompanied by training help to increase muscle mass and boost physical performance*.
The vitamins present in milk are beneficial to the practice of long-distance sports, for example B12, one of the main nutrients that contributes to the formation of red blood cells, which are involved in oxygen transport processes.
Vitamin D, present in all dairy products, is essential to the absorption and metabolism of calcium, which helps to maintain strong bones (as does vitamin K), strengthen muscles and decrease the likelihood of falls and the risk of fractures.