EXPERTS IN TAKING CARE OF YOU
Is drinking milk healthy?
What is the dairy consumption recommended by nutritional experts?Children and adults: Two to three servings a day Teenagers, pregnant women and the elderly: Three to four servings a day PRODUCT SERVING Milk 1 glass Fresh or mature cheese 125 g of fresh cheese or 30 g...
What does Únicla provide in your diet?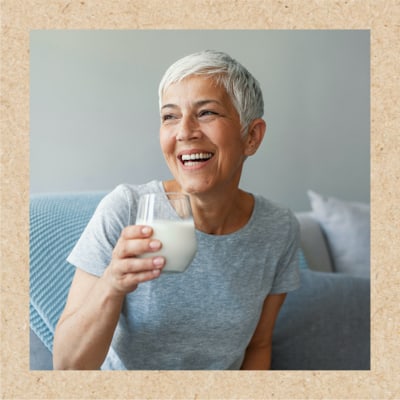 Can I consume Únicla milk if I'm a coeliac?Yes, because milk is gluten-free. Gluten is a protein found in the seeds of many cereals such as wheat, barley, rye, triticale, spelt and some varieties of oats, as well as in their hybrids and derivatives. This protein is...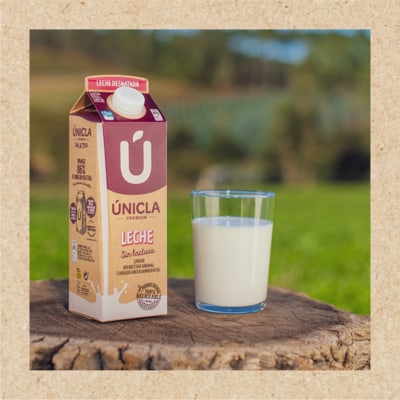 Can I consume Únicla milk if I'm lactose-intolerant?Yes. At Únicla, we have a range of skimmed and semi-skimmed lactose-free dairy products. In addition, some cheeses, butter or yoghurts are low in lactose, so for people who have trouble digesting this, introducing...
What is CLA and how does it help us?CLA stands for Conjugated Linoleic Acid, a very healthy polyunsaturated fatty acid from the omega 6 group naturally present in milk. Únicla provides four times more than conventional milk as a result of the natural, carefully...
Butter vs margarineAlthough butter and margarine may look like similar products, they are completely different foods. Apart from the origin of the raw material, the manufacturing process is different and has a direct impact on the nutritional value of the final...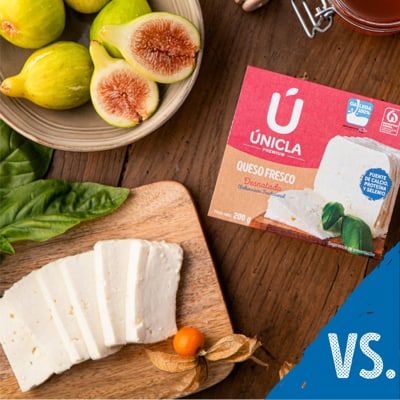 Traditional cheese vs ultra-filtered cheeseTreatments applied to foods can degrade some of their nutrients, such as proteins, vitamins or minerals. For this reason, Únicla fresh cheese is produced using a fully traditional system in which fresh milk is used without...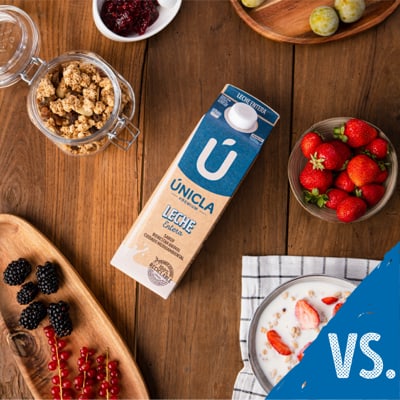 Dairy vs plant-based drinks.According to the Spanish Food Code (CAE), "milk" means the whole, unaltered, unadulterated and colostrum-free product of the regular, complete and uninterrupted sterile milking of healthy, well-fed female domestic mammals, while a...
Milk increases cholesterolNo, unlike other animal fats, it has been proven that fat in cow's milk has no effect on blood cholesterol levels*. Moreover, recent studies show that not only is it not harmful to cardiovascular health, but it also has a protective effect...
Full-cream milk is less healthyNo, it simply has different qualities, as by removing the cream from the milk some of the vitamins and minerals can be lost. Consumption of milk, including full-cream milk, with the right mineral and protein content, is associated with...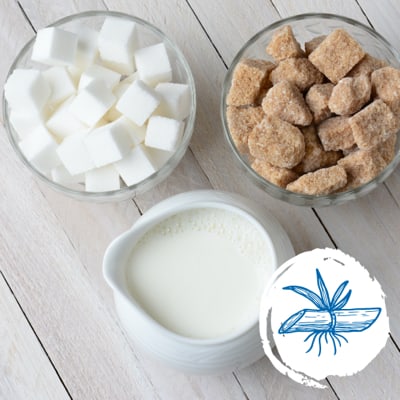 Milk contains sugarYes, but it's not an added sugar, it's lactose, a carbohydrate naturally present in milk.Lactose is involved in the manufacture of essential structures for the brain, which are vital in early neurological development, and in the formation of cell...